Partial dentures are removable dentures that replace a few missing teeth. An important step in maintaining a healthy smile is to replace missing teeth. They can either be made out of flexible material, acrylic or cast metal framework.
Flexible Partial Denture

These are new, comfortable, metal-free, aesthetically pleasing flexible dentures called Valplast. Its translucency allows the patients natural tissue colour to appear through the material. It has the advantage of not showing any metal and has a natural look. They are also light-weight making them easy to adjust by the patient. If you require more information on flexible partial denture treatment in Delhi, kindly email us.
Acrylic Partial Denture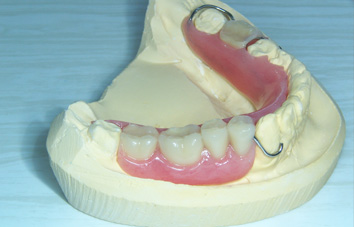 These are conventional partial dentures made of acrylic and mainly used as temporaries for a short duration of time. They consist of an acrylic base with plastic teeth and gum areas.
Cast Metal Partial Denture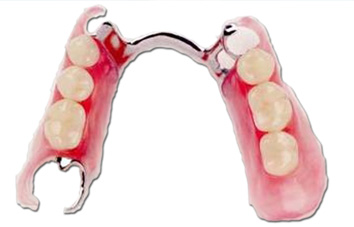 They consist of a metal framework having metal clasps or other attachments to give it additional strength. Teeth are placed over it and surrounded with pink gum tissue.
Adjusting to a new partial denture
» In the beginning wearing a new partial denture may feel awkward or bulky. This is normal and you will eventually become accustomed to it in a few weeks.
» Inserting and removing the partial will require some practice.
» Initially, you may be asked to wear your partial denture all the time. Although this may be uncomfortable at first, it's the quickest way to identify areas that may need adjustment. If sore spots develop, they can be easily seen and adjusted.
» Start by eating soft foods and gradually introduce more difficult foods. Sticky foods like toffees & caramel, and hard foods such as chocolates, nuts & raw carrots should be avoided to begin with.
» You may also experience slurred speech, gagging or excessive salivation. Again, these issues usually disappear andnormal speech pattern comes back.
Home Care Instructions
» Remove and rinse your partial after eating
» Clean your partial every day to remove food deposits and plaque using tooth brushes and denture cleansers
» Clean your mouth after removing your dentures
» Remove your partial denture every night
» Soak them in mild denture soaking solution overnight
If you're looking for options on
replacement of missing teeth in New Delhi
, consult our
dental hospital clinic in India
.
Testimonials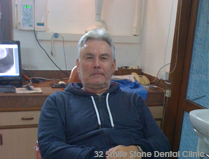 Thank you for a painless dental experience. I can recommend your skill to anyone that requires dentistry......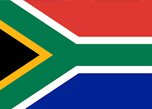 Jurgen Dunkelber, South Africa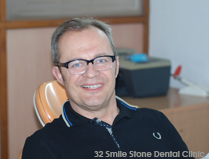 Thank you so much for an efficient and professional treatment. Got a dental implant placed in her office.....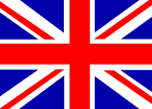 Mark Verity, England